January 1, 2020 - December 31, 2020
PROGRESS AMIDST A GREAT CHALLENGE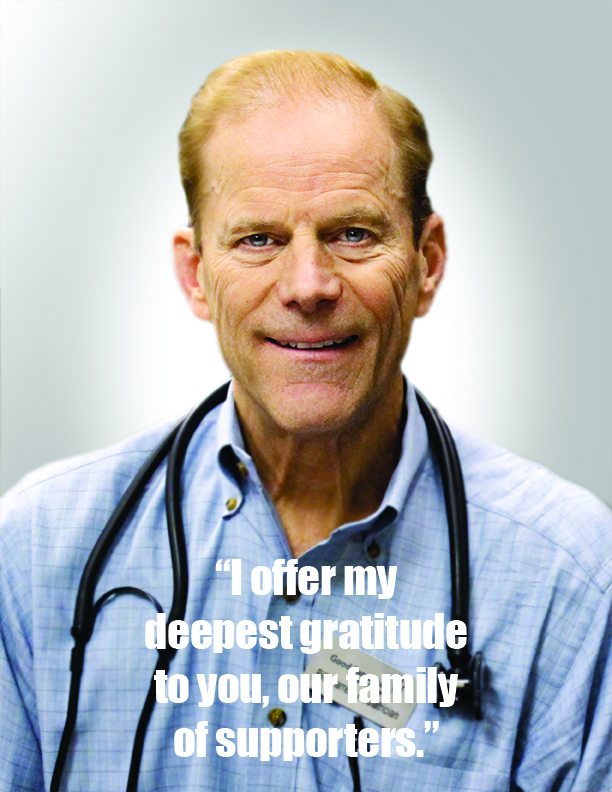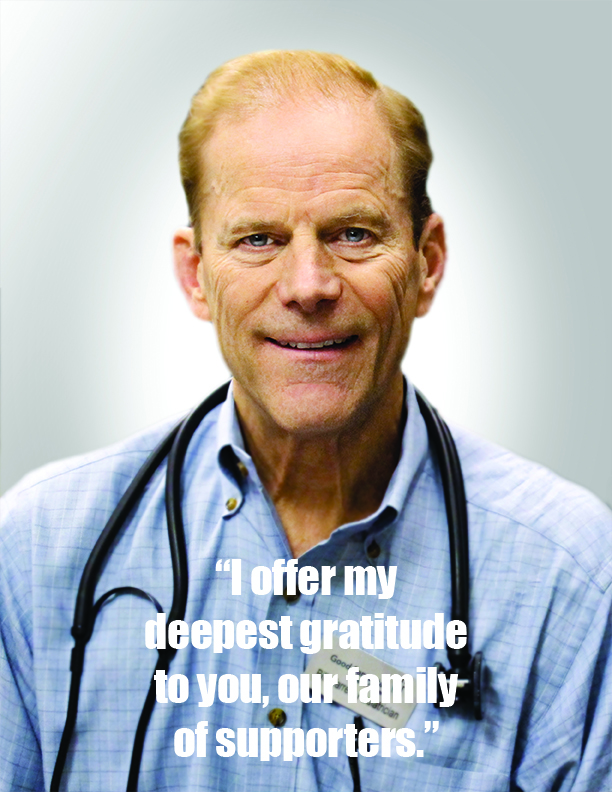 I'm sure that you remember those fire drills practiced at your elementary school. The alarm would ring; the teacher would direct each class member to line up orderly and quietly. Out the door, we would proceed to a safe, predetermined outdoor location. Once the "all clear" signal was given, each of us returned to our classrooms, possibly annoyed at the interruption or maybe thankful for the small break.
2020 was no fire drill. To say that it was the Real Fire of unimagined proportions would be a significant understatement. With no end in sight, the "all clear" signal has not been sounded.
Please allow me to praise my staff, who acted quickly and purposefully and who made the proper, not easiest, adjustments to address how we could serve our community in the middle of the once-in-a-hundred-year pandemic. Each adjustment was intentional, well-conceived, thoroughly considered, science-based, and implemented to achieve our neighbors' best care. My staff made sacrifices and met the demands that a world turned upside down hurled at them. What they did worked, continues to work, and has become a model that others emulate.
Under the leadership of Dr. John Sieweke, Dental Services Director, the Dental Department obtained the hard-to-get PPE (you may recall that last spring there was an insufficient supply of PPE) to protect our dentists, hygienists, and assistants. Procuring chair side evacuates, which function as vacuums, was necessary to collect aerosols and splatter produced during dental procedures. An air purification and germ neutralizing system was installed throughout the entire clinical space. The Center is germ-free.
Our administrative team began to work remotely, coordinate operations, lead zoom meetings, pay bills, provide staff education, communicate with donors, and work on a PPP loan. Adapting to working remotely created a host of new variables and challenges, which Veronica Squires, our Chief Administrative Officer and her team successfully managed.
The Medical Department, led by Breanna Lathrop, Our Chief Operations Officer, immediately set up a telehealth option for our patients, staff, and volunteers to employ. With Mike Tremmel's assistance, a 24/7 Covid Helpline was developed, giving easy access to a world hungry for answers to testing locations, exposure risk, quarantining recommendations, disease symptoms and treatment, and current recommendations and vaccines. A dedicated entrance and isolation area with PPE was set up to test and care for our ill patients and their families who may have Covid. Through a partnership with CVSHealth and by transforming our Pavilion and Wellness Center into a quasi MASH unit, we can provide an additional 200 Covid tests a day, six days a week.
Mental health services pivoted to all virtual evaluation, follow up and care. Additionally, we were able to maintain all health education services case management, and care of the homeless which was no small task.
When faced with this real COVID Fire Drill, my staff, your staff did and are still doing all they can and did not shrink back. Instead, they faced the fire head-on and are extinguishing its blazing flames. I could not be prouder. I owe my staff my greatest thanks and huge Kudos for a job truly well done!
Finally, I offer my deepest gratitude to you, our family of supporters, for we could not do what we do without you! As we all have united together to spread Christ's love through quality healthcare to those in need, may we continue in the grace of God and not grow weary in well-doing.
"Let us not become weary in doing good, for at the proper time we will reap a harvest if we do not give up. Therefore, as we have opportunity, let us do good to all people" Galatians 6:9 (NIV)

Bill Warren, MD
Founder, President, and Pediatrictian
10,962 PRIMARY CARE VISITS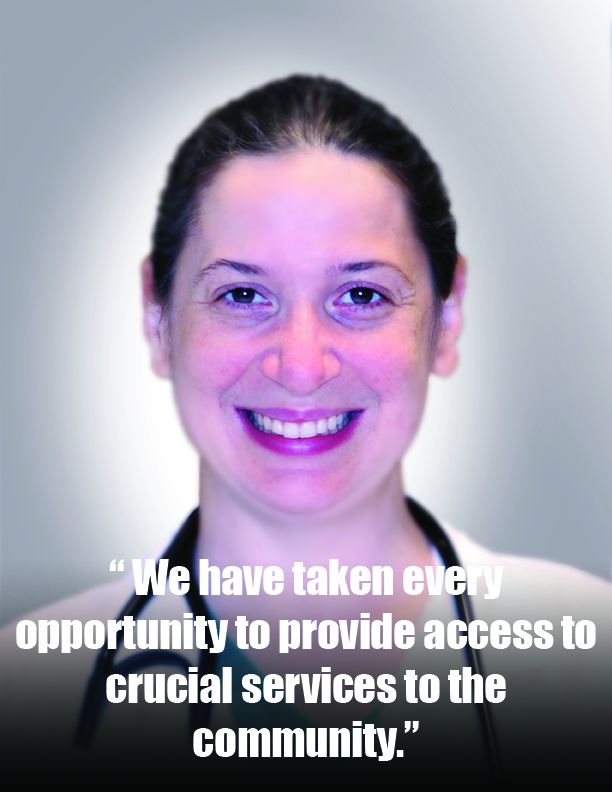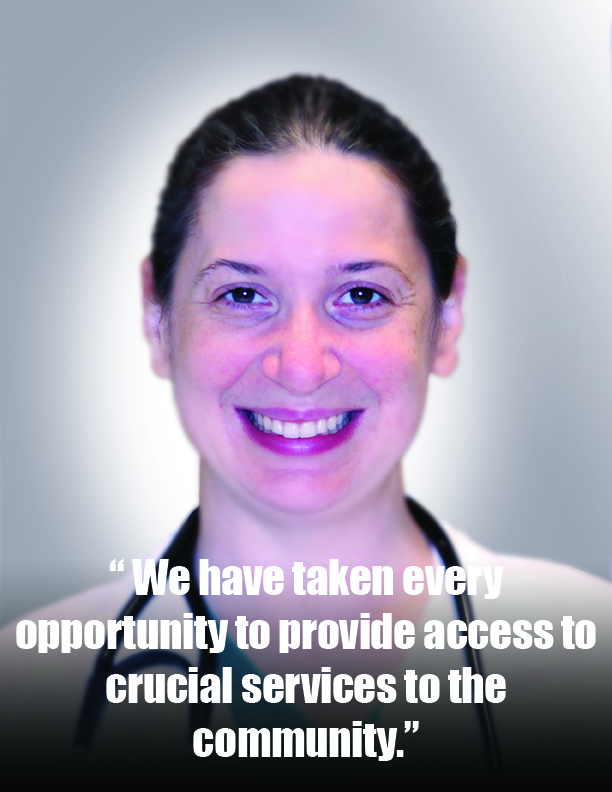 Providing continuity of care during the COVID pandemic has stretched our medical team in ways I would never have thought possible. In short order, we created a telemedicine protocol, instituted mask policies early on, adapted our clinic space and expanded our team to accommodate assessing COVID positive patients, and have taken every opportunity to provide access to crucial services to the community at large such as COVID testing and, now, vaccination. Our team has done this while navigating through this pandemic with their own families, with several of our members scrambling to find childcare solutions for our children who have switched to reduced daycare hours or virtual learning.
-Dr. Sanchez-Quiros
WE NEVER CLOSED OUR DOORS
Not only did we continue to provide necessary primary care, annual exams, and chronic disease management, but we also recognized early on that keeping people out of emergency rooms and preventing death meant that we needed to safely evaluate and care for people with COVID-19. We created an isolation area with a separate entrance and provided over 1000 consults to people with known or suspected COVID-19.
COVID-19 HELPLINE
In March of 2020, we launched a COVID-19 helpline to answer questions about the virus and route people appropriately for consultation and testing. Over 80 volunteers have created a call center to ensure every caller speaks with a live person and receives the care needed. Our helpline is open to the community and enabled us to become a testing center. Led by volunteers like Mike Tremmel, this effort has been a highlight of hope in a difficult year
CVS HEALTH PARTNERSHIP
Good Sam is honored to be in partnership with CVSHealth since May 2020. Our community fitness center and outdoor health pavilion were transformed into a rapid COVID-19 testing center. The helpline managed all calls and scheduling while the CVS Health team conducted over 21,000 rapid tests. The Good Sam staff conducted another 900 tests in the clinic for children, allowing people of any age to be tested free of cost at Good Sam.
24,319 COVID-19 HELPLINE CALLS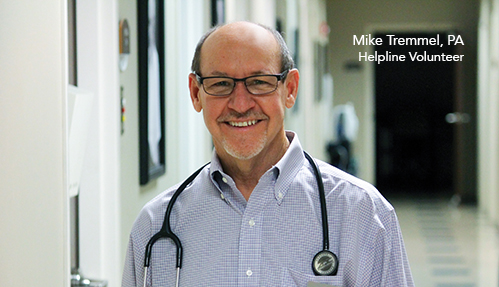 $1.8 MILLION IN DENTAL SERVICES FOR THE YEAR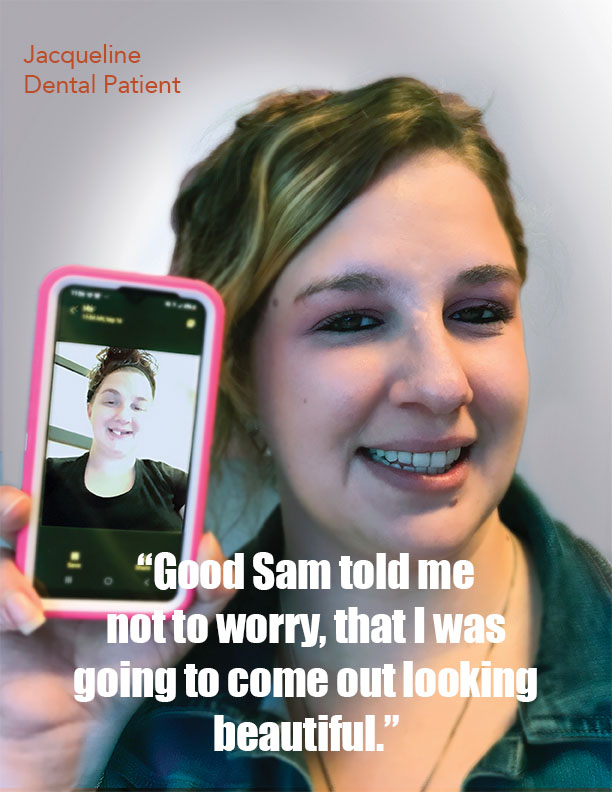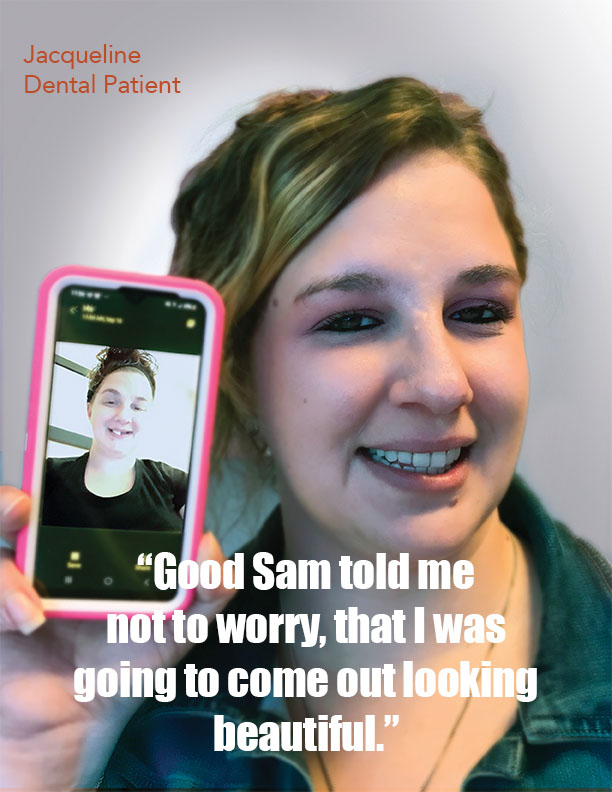 RETURN TO HEALTH
Despite the effects of the COVID-19 pandemic in our community and the ability to provide services, we had 149 patients complete their treatment plans to return to optimum dental health.
CERTIFICATIONS GRANTED
Good Sam remains committed to educating the next generation of providers through our residency program. In 2020, we received our Commission on Dental Accreditation (CODA) certification for the Advanced Education in General Dentistry Program (AEGD).
Watch Jacqueline's story
OPERATORIES UPGRADED
Through a generous $58,633 gift made by North Point Ministries' Buckhead Church that arrived in the final days of 2019, three of our dental operatories received full equipment upgrades in June of 2020. These much-needed improvements brought state-of-the-art dental chairs to the department. We are also grateful to Atlanta Dental for working with us to secure the best pricing possible to acquire the equipment and install it. Good Sam's dental department is committed to offering exceptional dental care to all our patients, and keeping our operatories up to date is essential.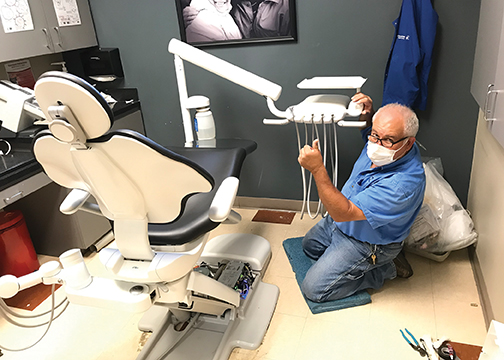 WE WENT VIRTUAL WITH ALL OF OUR COUNSELING PATIENTS.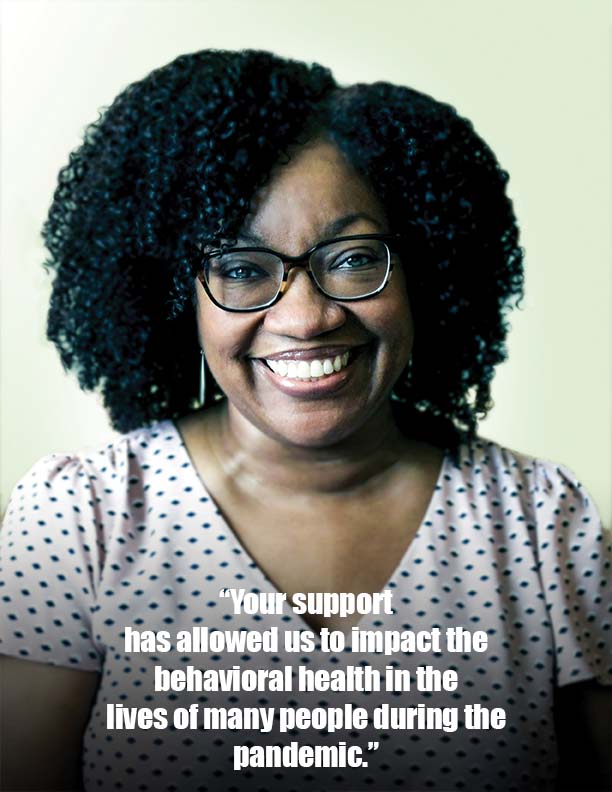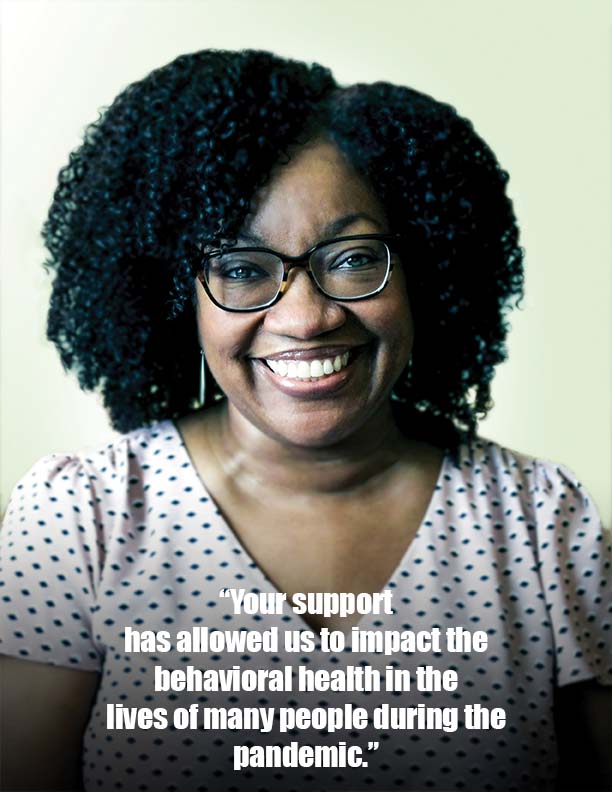 The last year has been challenging, to say the least! It's rare to have an issue affect everyone's lives, everywhere, at the same time. Collectively, we were tasked with learning how to adjust and positively cope with the life-changing effects of the pandemic - a big task for all but especially difficult for those among us with preexisting mental health concerns.  According to a new WHO survey, the World Health Organization writes, The COVID-19 pandemic has disrupted or halted critical mental health services in 93% of countries worldwide while the demand for mental health is increasing. Bereavement, isolation, loss of income, and fear trigger mental health conditions or exacerbate existing ones. Many people may be facing increased levels of alcohol and drug use, insomnia, and anxiety.
As with many organizations, COVID-19 health and safety restrictions caused us to suspend our in-person counseling services. However, knowing how vital access to therapy is, especially during a public health crisis, we knew we must restructure our service delivery to maintain that accessibility.  The implementation of telemental health or virtual therapy into our practice was a necessity.
Telemental health provides a convenient, safe, and confidential way for patients to access therapy from the comfort of their own home, which was extremely helpful during the days of sheltering in place. Even now, when many are still cautious about going out in public.  Our patients continue to express their gratitude for having access to therapy during this critical time.
Here is what two of our patients would like to share:


Hello! I received care/therapy services from Ms. Novell via the internet, and this has helped me as her patient tremendously.  I continued to stay calm and motivated to heal my personal baggage and past traumas, so I'm really grateful that this was an option. I must really say thank you for allowing this to be an option for care. -R. J.


Weekly counseling has been a lifesaver for me during the pandemic.  It has been helpful to discuss the anxieties and uncertainty of the situation and helpful as well to continue work on other issues with my trusted counselor.  The lack of family gatherings has been hard on me, and I really appreciate our weekly visits and virtual hugs.  Telemental health has made this possible, and I am grateful. -E. C.
Good Sam is pleased to offer virtual therapy as an option for care and plans on continuing it post-pandemic to serve our patients who have difficulty making it into the clinic for reasons such as lack of childcare or transportation.
Novell Blain, LPC
Clinical Counselor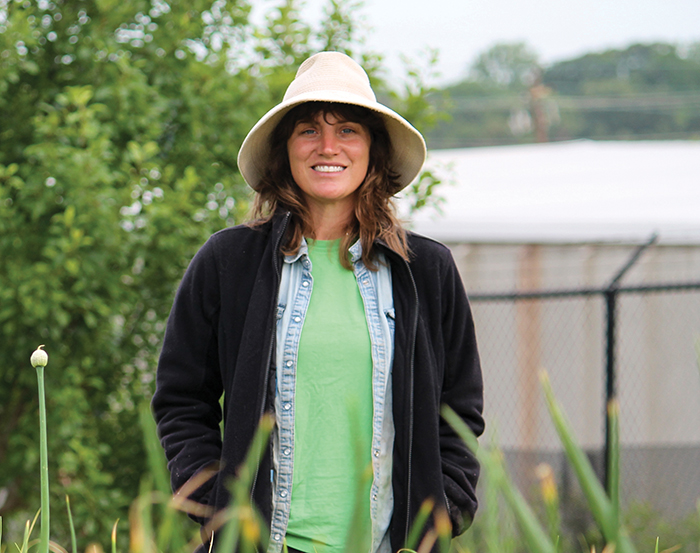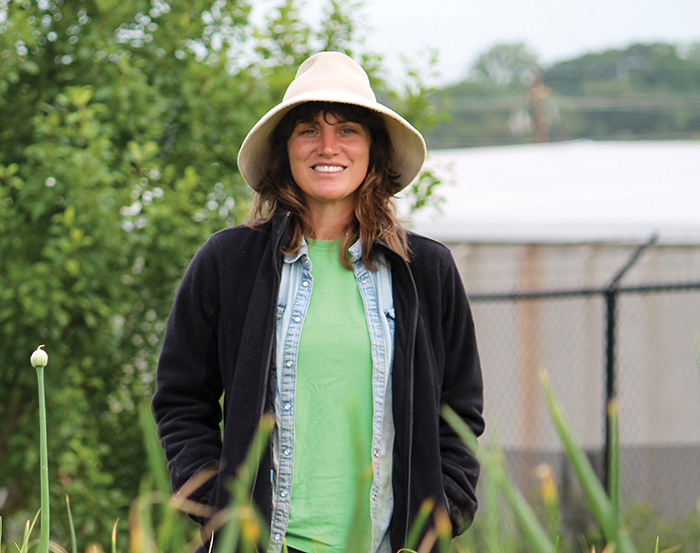 We had a very successful year of crop health, harvests, and development. We grew in our connectivity with customers and the community around us, largely due to the pandemic, which hit the beginning of The Market season. With our outdoor facility turning into a much-needed COVID-19 testing site, we quickly re-evaluated the Market location, distribution, and safety practices. We made the difficult decision to scale back our market to one day a week, allowing for a safe shopping experience for our customers and reduced COVID exposure risk to our team.  We chose to hold The Market on The Farm, which brought many long-time customers out for a first-time visit, allowing them to see exactly where their food is grown.
We became connected with local food pantries that saw increases in food-insecure families and donated over 2,000 pounds of our harvests to them in 2020. We partnered with The Common Market, a produce supplier & distributor, and became a hub for a local church, which picked up the 100 pre-packed boxes weekly to distribute in their community.  With God's help, we navigated the year's challenges, built new community relationships, and found areas worth celebrating. -Nobie Muhl, Farm Manager 2138 COMMUNITY EDUCATION
&
WELLNESS ENCOUNTERS
HEALTHY LIVING IN A PANDEMIC
Much of our Healthy Living outreach brings patients to the Center for wellness and exercise classes in the pre-pandemic world. In the early days of the pandemic, all in-person initiatives had to be suspended. However, we quickly adapted and made virtual offerings for our patients to stay engaged while sheltering at home.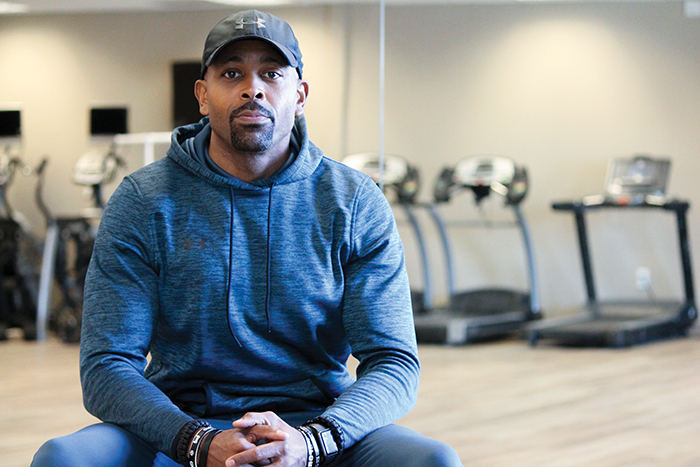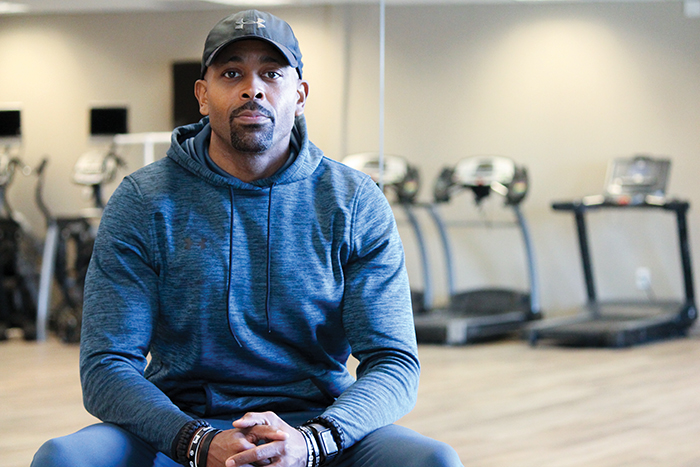 With great partners like Coach Carter, online exercise classes began and continue to this day. While we always enjoy having our community come to our campus, we discovered that often transportation barriers could prevent this. The advent of virtual opportunities increased our population's participation as workouts are accomplished in the comfort and safety of home. Our community outreach team's creative work keeps engagement high when many are feeling isolated.
Coach Carter helps patients build healthy spirits, minds, and bodies. Believing your workout should nourish your soul and that your mind greatly affects your progress, he teaches that your body can carry you farther than you ever thought it would when all of these areas are aligned.
LIVE FROM GOOD SAM RAISED OVER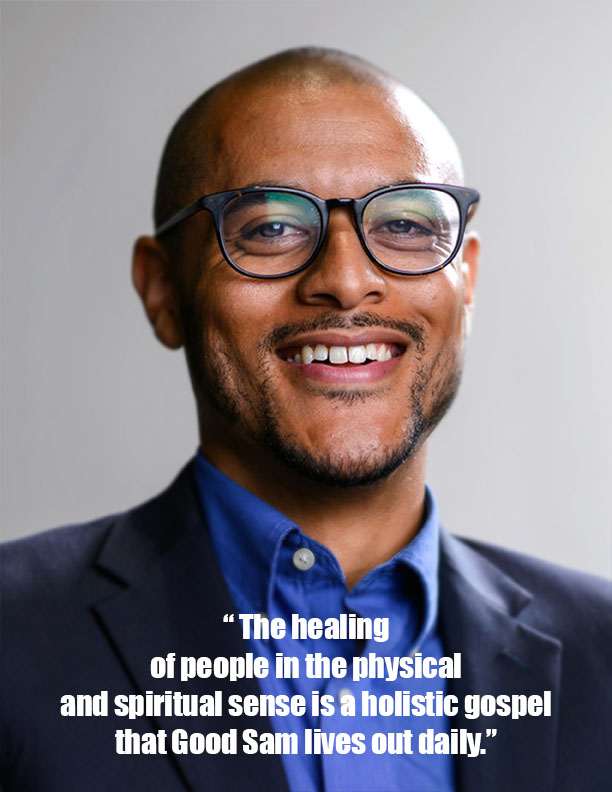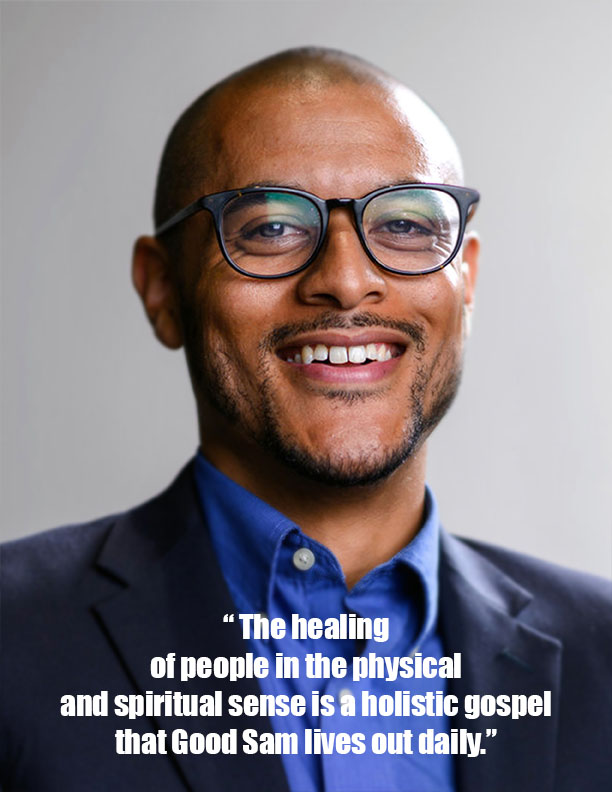 In the year that changed everything, Good Sam adapted and remained unrelenting in our efforts to support our mission.
We had our 2020 Gala scheduled for those who are partners, and the planning was in full swing. With all the critical logistics being in place, the unimaginable happened with COVID-19. With no options but to postpone the April Gala, we rebooked all our vendors for a hoped October in-person event. As the pandemic continued to unfold, it became apparent in July that our Gala was not destined to happen in the way we had known it in the past. We welcomed in a new reality we all have come to know all too well, that of going virtual! Our challenge became to design and craft a virtual experience quickly. Our team got to work developing content, securing resources, and designing an experience, unlike anything Good Sam had known.
On Thursday, October 15, we went LIVE at Good Sam with our host, Good Sam's Board Vice-Chair, Benjamin Wills! With the help of a technical army, we broadcast a Full Circle of Health experience that brought the viewer up close and personal with every facet of our work. Hundreds of guests experienced the virtual event! Live music, a cooking demo, and patient video testimonials all hosted by our own board member, Benjamin Wills. The evening raised over $370,000 for our important work and was the most successful Gala to date.
We have to thank our incredibly generous sponsors who walked with us through all the adjustments that the pandemic demanded of us.  And a very sincere THANK YOU to all of you who tuned in and gave!