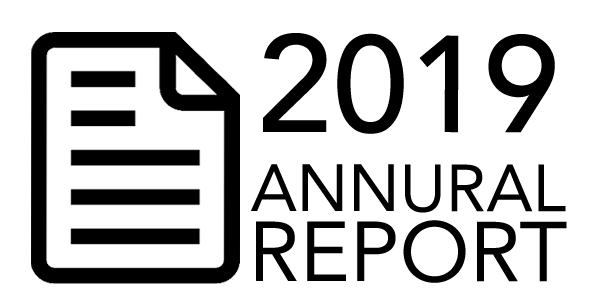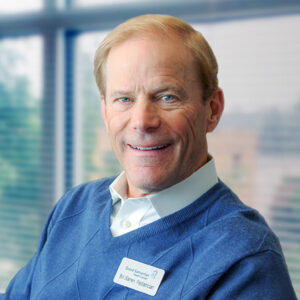 Dear Friend,
At the onset, I want to say "Thank You" so very much for being a partner, for believing in our mission and for your personal encouragement. 2019 was a year of growth and achievement and we want to celebrate that with you. In the midst of the COVID-19 pandemic, our work looks very different in 2020, but our commitment to our Full Circle of Health® model and our patients has not changed.
You will read in this annual report how our staff employs our Full Circle of Health® model in caring for our patients. Taking 22 years to implement fully, this model was developed in our original 1998 business plan. Rather than rolling this model out immediately upon opening in 1999, we took the thoughtful, judicious, day by day and year by year approach. This meant creating and delivering programs as funding and capable staffing became available. It meant not rushing into things until God's timing was right. By doing so, we could evaluate and adjust each area of the model and get it right. I believe when you read the articles in this report that you will find evidence that our Full Circle of Health® model is bearing fruit……our patients feel loved, cared for, respected, and healthier.
My staff and I do this work because Jesus encouraged us to "care for the least of these among us" and because "to whom much is given, much is required." I sincerely believe that we are succeeding and thereby showing Christ's love to our community.
Again, I am genuinely grateful for your support, belief in our mission, and trust.
Sincerely,




Founder, President, and Pediatrician
---

A MESSAGE FROM KATHRYN B. MILLER, BOARD CHAIR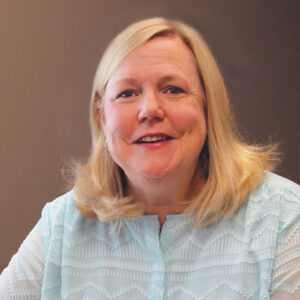 2019 marked Good Samaritan Health Center's tenth year at our current location, and we are thrilled that we have been able to enhance all areas of our Full Circle of Health® model. This year we added new structures to our property, and in 2020 we will be able to put them into full use. We encourage our neighbors and clients to become a part of our family and enjoy our Full Circle of Health® model of care. There are many opportunities to begin a journey into holistic care at the Center, such as buying fresh produce from our new Market Pavilion. The Market features certified naturally grown produce from The Farm at Good Sam. Also, patients can experience exercise classes or individual workouts at our new Wellness Center and group fitness room.
Since the beginning, our medical and dental services have been top-notch, and we have grown to include services in behavioral health, health education, healthy living, and our own dispensary. Every Friday, we open our doors to the homeless in our community. Our Friday Clinic offers the full range of our services, with each patient cared for with dignity and respect. These patients often remark that our staff feels like their friends and family. Surveys indicate that 70% of our homeless clients return for follow-up care. This continuity of care aids them in living a healthier and ultimately longer life.
After several years of planning and raising funds, we were able to construct a new building for the fitness center, and we welcome the YMCA of Metro Atlanta as our operations partner. We have also built an open-air pavilion where The Market will be selling products from The Farm at Good Sam. We hope that our clients, staff, and visitors will enjoy the courtyard setting and spend time visiting while the children play in the grassy field. We also added a much-needed garage for our shuttle van.
The Board is passionate about and committed to the critical work of the Good Samaritan Health Center in our community, albeit the work we do is expensive. Through a well trained and caring staff supported by many dedicated volunteers, we are having a significant impact in Atlanta.
Our patients have grown to trust us, each wanting to improve their wellbeing by learning how to maintain a healthier lifestyle. Also, we highly value the faith placed in us by our donors. Without the compassion of those who give, we could not accomplish what we do for those who rely on us.
2020 has brought new challenges to implementing our Full Circle of Health® model of care. However, the team at Good Samaritan has found creative ways to continue serving our community during the pandemic. We invite you to follow our journey here at goodsamatlanta.org.
---

A MESSAGE FROM VERONICA SQUIRES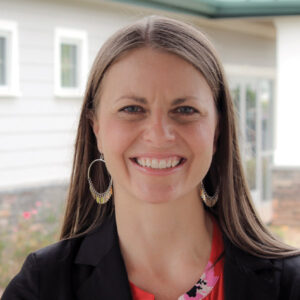 We didn't realize it at the time, but when I look back on 2019, I can see many areas where the Lord was preparing us for the COVID-19 pandemic.
To love our staff well and help them develop professionally, we spent a lot of time on team-building skills like conflict resolution and non-violent communication. The trust built through these training sessions was critical in allowing us to respond to the numerous operations changes COVID-19 demanded. When it came time to completely re-work our clinic flow, transition patient visits to telehealth, launch a new helpline, etc. our staff responded immediately with excellence and grace.
To pursue our strategic goal of being a model clinic sharing best-practices, we hosted Good Sam Institute 1-day training summits every quarter in 2019. Along the way, we became more deeply engaged with the Georgia Charitable Care Network, the Christian Community Health Fellowship, the National Association for Free and Charitable Clinics, and Empowering Church Health Outreach. There has been quick sharing of information and resources related to COVID-19 and we hosted a special virtual Institute focused on COVID-19 response in late May for clinics from across the country.
To better serve Westside neighborhoods, we began meeting with other like-minded partners and non-profits in our service area. These conversations were laying the groundwork for what is now a functioning safety net of organizations sharing resources for vulnerable neighbors.
I am reminded that with God nothing is ever wasted. Those efforts to tighten our billing processes and increase reimbursements? They were critical to ensuring that in a COVID-19 world we maintain as much revenue as possible. The expansion of our roster of professionals able to lead health education classes? Right on time when we had to switch all on-site programming to Zoom calls. The new Farmer's Market customer mailing list? It's now enabling us to connect with our high-frequency shoppers to make sure they know what produce we have available and how to get it. The examples are plentiful.
I stand in awe of the way God works. What a great God to spend so much time, energy, and detail directing and building us to be ready for the current crisis. Not only that but during this time as we walk forward, God is also the rock we stand on. Never have I been so proud, and so grateful to work for Good Sam.
---
Though the rain comes in torrents and the floodwaters rise, and the winds beat against that house,
it won't collapse
because it is built on bedrock. – Matthew 7:25
---
A MESSAGE FROM BREANNA LATHROP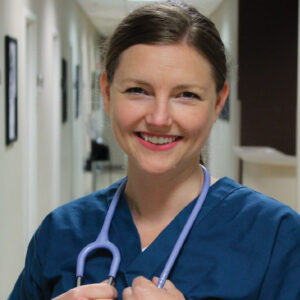 Sitting at the clinic in April of 2020, reflecting on 2019, feels as though it was another lifetime ago. So much has changed not only at the clinic but in all of our lives as we navigate the new realities of COVID-19. Yet, I am also reminded that our efforts in 2019 have paved the way for our ability to face the challenges of 2020. In October of 2019, we earned national recognition as a Patient-Centered Medical Home. This recognition was the culmination of a year-long transformation process but also a testament to high-quality care that Good Samaritan has been offering patients for years. While COVID-19 has changed much of what we are doing on a daily basis in 2020, we are still the patient-centered healthcare center, offering quality care, compassion, and love as we were in 2019.
Patient-Centered Medical Home (PCMH) recognition distinguishes Good Samaritan as meeting national standards for patient access, evidence-based care, quality standards, and team-based care. The opportunity to become PCMH recognized was made possible by a grant from Americares and involved the commitment of the entire Good Sam team. We join a very small number of free and charitable clinics to reach this designation. To me, this is another way in which we live out our belief that our patients deserve the very best primary care we can provide.
While I have a great appreciation for data, outcomes management, and quality assurance, what matters most is how our patients experience their care here at Good Sam. Being a medical home is not just about meeting standards but also creating a place where people feel loved and cared for. For many of our patients, their experience with the healthcare system has been another example of how they have been marginalized. The most important measure of our work is our ability to demonstrate genuine care and reflect God's love to our patients. In 2019, we conducted a qualitative study of our Friday clinic dedicated to serving the needs of individuals experiencing homelessness. We wanted to better understand what lead to their decision to keep returning and what aspects of care they value most. Two quotes from the interviews have had a profound impact on me:
"Sometimes it's not the medicine that will heal you, but the warmth, compassion, and understanding of another human being."
"I think having peace of mind has been the biggest thing. Being able to think that there will be a tomorrow, because for a moment I thought there would not be a today. So, the inspiration to live would probably be the biggest thing they've given me."
We can't welcome our patients in on Friday mornings with a shared devotion and breakfast buffet right now. Our quality assurance measures will not likely look as great by the end of 2020 as all preventive care is on hold per national recommendations. And while I yearn to return to life at the clinic as it was in 2019, some things have not changed. We are still in the business of hope. We believe in a Savior who brings hope to a broken world and we will continue to bring hope to our patients regardless of how COVID-19 requires us to change. Right now, I don't know what tomorrow will look like but I believe it is coming and we are going to do anything we can to help our patients and community believe that too.
A MESSAGE FROM JOHN SIEWEKE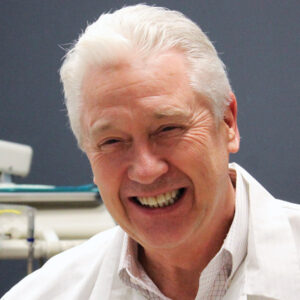 2019 was a banner year for the Good Sam dental department in many ways as we purposed to fulfill our mission of "Spreading Christ's love through quality 'dental' healthcare to those in need"! With over 6,600 patient visits, patients received 17,656 services valued at over $2.5 million! Volunteers provided $88,746 worth of those services! We were able to help 263 patients complete their needed treatment and regain their oral health stability. This treatment not only improved their dental health but also restored their sense of self-worth and social acceptance.

July 2019 saw us welcome our first pair of AEGD residents as we became a clinical training site for NYU-Langone's Advanced Education in General Dentistry (AEGD) Residency program. This year-long program begins July 1 each year and runs through June 30 of the next year. We received preliminary CODA accreditation for the program and expect to receive full accreditation in 2020. We have already gone through the selection process and have been assigned our next two residents, who will start July 1, 2020! This places two additional providers in the clinic full time to help meet the ever-growing need for services. We also hosted 17 dental students from the Dental College of Georgia and the University of North Carolina during the year for externship experience.
Our exceptional staff continues to grow and develop into an efficient team learning to support each other in their various roles and improve our service capabilities. Without their assistance and hard work, we could never attain the exceptional level of treatment provided to our patient family! Our team's commitment to providing excellent services carried us through some atypical occurrences. Such as Dr. Ruiz welcoming her beautiful daughter, Riley, into the world and being out for 12 weeks of maternity leave, welcoming residents, students, volunteers, and adjusting to their chairside needs and personalities. Every day in the clinic brings something new, and they handle it with confidence and grace.
The dental department faces new challenges in light of the COVID-19 pandemic. While the scope of our services has been limited, we are still open and providing emergency services. We are actively creating new processes and purchasing equipment that will allow us to resume our full services in the months to come. We are asking the Father to bless us with the resources we need to safely resume all dental services for our community.
The dental department faces new challenges in light of the COVID-19 pandemic. While the scope of our services has been limited, we are still open and providing emergency services. We are actively creating new processes and purchasing equipment that will allow us to resume our full services in the months to come. We are asking the Father to bless us with the resources we need to safely resume all dental services for our community.
A MESSAGE FROM NOVEL BLAIN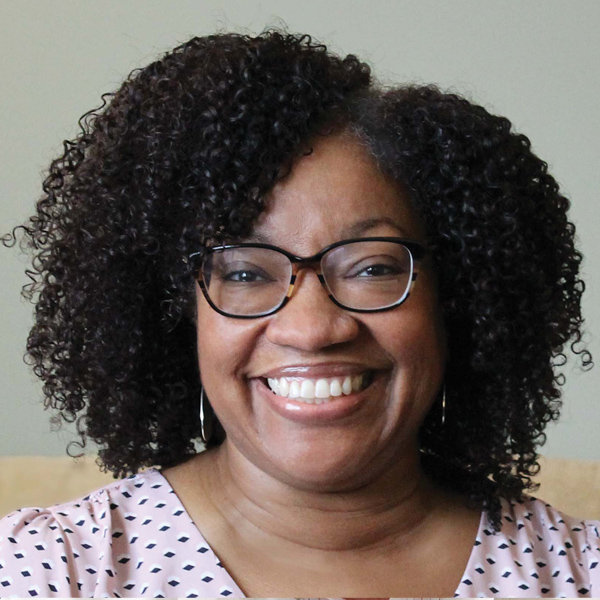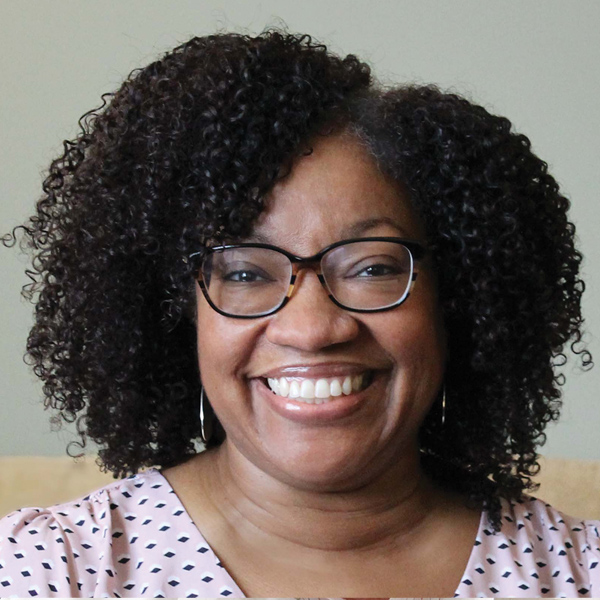 An integral part of the Full Circle of Health® model is Good Sam's behavioral health department, where I proudly serve as the lead mental health counselor. I have always known that I wanted to be a "people helper." I became a therapist with the intent of helping people restore a sense of hope and belief in themselves and in their God-given capacity to persevere and overcome. Each day, I am in awe at the tenacity, determination, and resourcefulness of my patients as they strive to manage everyday life while fighting to overcome issues such as depression, anxiety, personality disorders, homelessness, and the residual effects of various trauma-related events. The client's desire for a better life strengthens their resolve to keep going, show up in therapy, and obtain the tools needed to change and grow.
In 2019, the counseling team completed 1,351 mental health-related patient encounters. Two instrumental factors in our ability to serve our patients is through our Graduate Internship Program and with the empirically validated therapies we utilize in our patient care.
Good Sam maintains ongoing partnerships with master's level counseling programs in the Atlanta area. Each year, we serve as the placement site to facilitate a year-long internship for counselors who are entering the final year of their program. The internship program serves the critical function of increasing Good Sam's capacity to provide counseling services for a higher number of patients, and we are grateful we can extend our reach to those in need.
Research shows that living in a persistent state of lack can have damaging effects on one's mental, emotional, and physical health. Many of our patients experience the effects of this lifestyle and come to us to find solutions and gain the resources/tools to construct a better way of life. We assist our patients through various interventions such as Cognitive Behavioral Therapy (a thought reframing approach), Dialectical Behavior Therapy (an emotion regulation and distress tolerance approach), and Eye Movement Desensitization Reprocessing Therapy (a trauma resolution focused approach). All of these interventions are essential to helping our patients overcome life's hardships.
Jackie, for example, shares how counseling at Good Sam has positively affected her life: "I started therapy in college and grew frustrated because I was always taking one step forward and three steps back as I had to change therapists every semester. Finding counseling through Good Sam allowed me continuous care with one person so I could truly make progress. Therapy is not a celebrated staple in the African-American community, so it was a challenge for me not only to accept the help but also to embrace that seeking counseling did not make me flawed. It meant I was working towards a better version of myself. I like to think of the process as talking to a friend, but the entire conversation is focused on me. It is my one hour per week that is created to focus on me and no one else. I love getting another perspective from an unbiased party. I know Novell has my best interest at heart even when she is saying things I might not want to hear. I love our patient-therapist relationship because I can be unfiltered, raw, and my true authentic self. When speaking to friends, they bring in their own opinions and possibly (or often) overshadow your specific situation and issues, which can be discouraging. Therapy is my "me-time" but better because I'm not spinning out of control with my thoughts, I have an outside voice that knows me very well to remind me of things and give me other's perspectives and help me understand to ultimately move forward."
All we do would not be possible without our donors' generosity, and with your ongoing support, we can continue our work and explore more ways to help. Thank you!
A MESSAGE FROM ANTHONY WILKES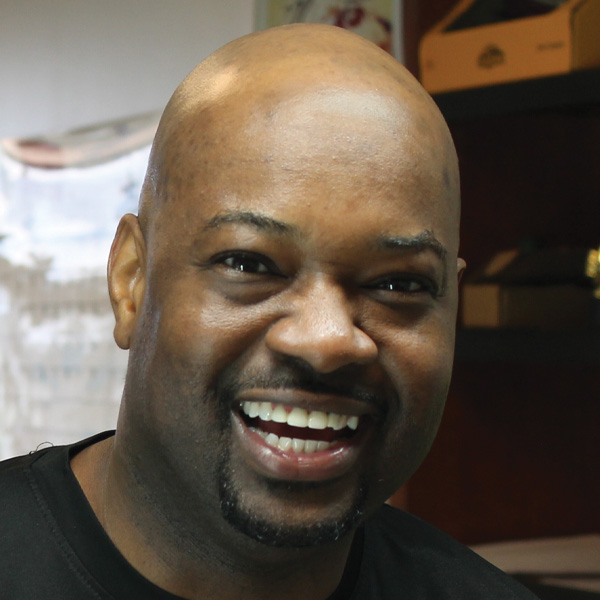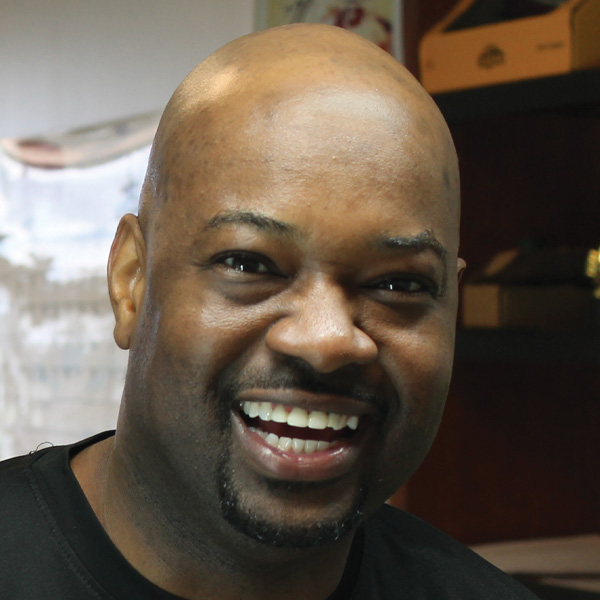 In 2019, your donations supported Eat Well Live Well Kids, one of our key outreach programs for the Westside. Our Eat Well Live Well Kids program. This initiative continued to increase youth awareness about living a healthy lifestyle. Our work furthered the implementation of the American Cancer Society's primary prevention goal to increase a healthy diet in schools and community settings. In 2019 our program goal was to expand the number of youth who gained knowledge and learned practices to improve nutrition and increase activity to combat obesity to prevent the incidences of future cancers.
2019 Eat Well Live Well Kids Accomplishments
• Expanded the reach of Eat Well Live Well Kids program, educating, and empowering 2,283 students in Westside/Metro Atlanta to eat and live healthier.
• Demonstrated 92% positive behavioral changes in the number of healthy foods consumed by the students (based on pre/post surveys).
• Increased knowledge in 96% of participating students in preparing healthy food choices/snacks and the effect on school performance (based on pre/post surveys).


 
Anthony Wilkes
Community Outreach
---
African-American 33%
Asian 2%
Hispanic 53%
Caucasian 6%
Other 6%
PATIENTS WHO PAY NO CHARGE
DIRECT CARE PATIENT ENCOUNTERS
[table id=7 /]
NON-DIRECT CARE PATIENT ENCOUNTERS
[table id=8 /]
COMMUNITY OUTREACH ENCOUNTERS
[table id=9 /]
2019 TOTAL PATIENT ENCOUNTERS 40,015
View the full PDF version of our report below.
[pdf-embedder url="https://27x.81e.mwp.accessdomain.com/wp-content/uploads/2020/06/2019-Good-Sam-Annual-Report.pdf" title="2019 Good Sam Annual Report"]